Caravan Holiday Offers
The Gap
Cromer
Ref.110075

2

6

Y
Sat 16th Jul
7 Nights
£550
The Gap
Cromer
Ref.109863

2

6

Y
Sat 23rd Jul
7 Nights
£550
The Gap
Cromer
Ref.108849

2

4

Y
Sat 16th Jul
7 Nights
£550
The Gap
Cromer
Ref.102347

2

6

N
Sun 24th Jul
6 Nights
£475
Caravan Holiday Park Information

The Gap Caravan Site is located in a fantastic position, footsteps away from the beach, on the cliff tops of East Runton in North Norfolk, just over a mile away from Cromer town centre.
The park has remarkable views of the sea and the surrounding countryside. Cromer pier, church and lighthouse can also be seen from most parts of the site. There is a slope opposite our entrance which goes straight down to East Runton's very own Blue Flag beach, leading to hours of fun to be had building sandcastles or searching for crabs in the rock pools at low tide. East Runton also offers two pubs, a Greek restaurant, Fish & Chips and a convenience shop. Within waking distance is the town of Cromer, with it's Blue Flag sandy beaches, famous pier, Church, numerous cafes and shops, museum, cinema and the end of pier 'Seaside Special' shows. There is also a train station which runs direct to the fine city of Norwich, which is 40 minutes away.
Sheringham, a short five minute drive away, is another busy seaside town. It has the 'Splash' Leisure Pool as well as beautiful gardens to see at Priory Maze and Gardens. There is also the opportunity to hop on the North Norfolk Steam Railway to take a ride to the Georgian town of Holt.
Whatever time of year you choose to holiday at Gap Caravan Park you are bound to find plenty to see and do and one thing is certain - one visit is never enough...
PLEASE NOTE!
The charging of electric cars is strictly NOT PERMITTED using caravan electric supplies.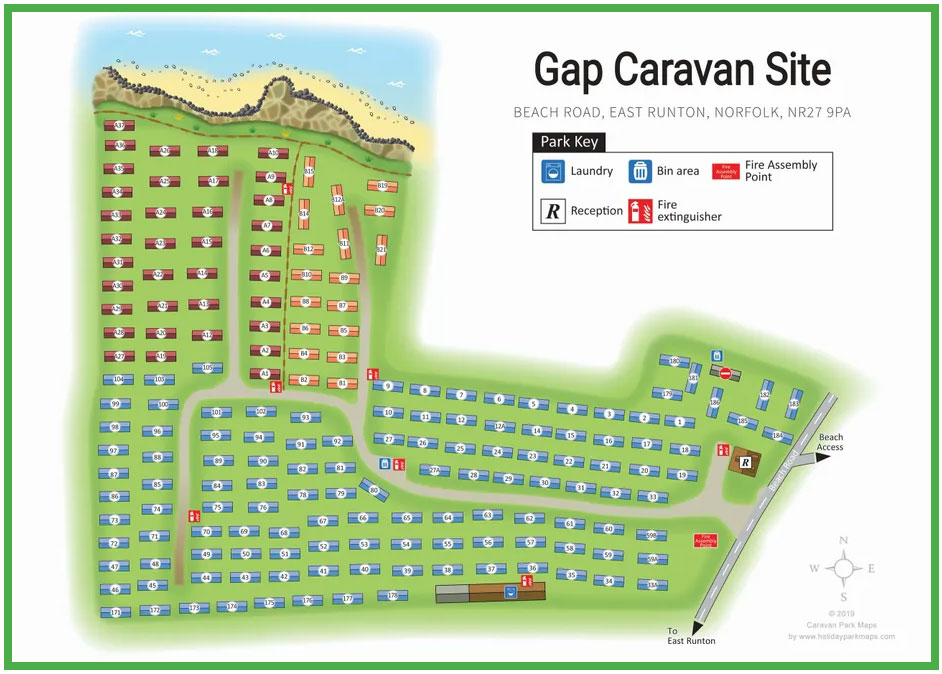 Park Location
Beach Road
East Runton
Cromer
Norfolk
NR27 9PA
33 Caravans For Hire at The Gap
Displaying Caravans 1 to 33
61 (Ref.109502)
2 Bed • 5 Berth • 28ft x 10ft • Sea View
Pets:

Y

Groups:

N

Decking:

Y

Hot Tub:

N

WiFi:

N
Number 6 (Ref.105150)
2 Bed • 6 Berth • 26ft x 10ft • Sea View
Pets:

Y

Groups:

N

Decking:

Y

Hot Tub:

N

WiFi:

N
176 (Ref.109863)
Offer! Sat 23rd Jul (7 Nights) £550

2 Bed • 6 Berth • 28ft x 10ft • DG
Pets:

Y

Groups:

N

Decking:

Y

Hot Tub:

N

WiFi:

Y
Number 101 (Ref.102664)
2 Bed • 4 Berth • 28ft x 10ft • DG • Sea View
Pets:

Y

Groups:

Y

Decking:

Y

Hot Tub:

N

WiFi:

N
12A (Ref.105158)
2 Bed • 6 Berth • 28ft x 10ft • DG • Sea View
Pets:

Y

Groups:

Y

Decking:

Y

Hot Tub:

N

WiFi:

N
No 14 (Ref.105154)
2 Bed • 6 Berth • 26ft x 10ft • DG • Sea View
Pets:

Y

Groups:

N

Decking:

Y

Hot Tub:

N

WiFi:

N
Number 7 - DelSol (Ref.102676)
2 Bed • 4 Berth • 26ft x 10ft • Sea View
Pets:

N

Groups:

N

Decking:

N

Hot Tub:

N

WiFi:

N
A2 (Ref.106494)
Offer! Sat 13th Aug (7 Nights) £550
Available,late cancellation
2 Bed • 5 Berth • 30ft x 10ft • Sea View
Pets:

N

Groups:

N

Decking:

N

Hot Tub:

N

WiFi:

N
Sea Escape (Ref.102631)
2 Bed • 5 Berth • 29ft x 10ft • Sea View
Pets:

Y

Groups:

N

Decking:

Y

Hot Tub:

N

WiFi:

Y
184 (Ref.102594)
2 Bed • 4 Berth • 26ft x 10ft • Sea View
Pets:

N

Groups:

N

Decking:

Y

Hot Tub:

N

WiFi:

Y
183 (Ref.104122)
2 Bed • 4 Berth • 28ft x 10ft • DG • Sea View
Pets:

Y

Groups:

N

Decking:

Y

Hot Tub:

N

WiFi:

Y
No. 32 (Ref.106341)
2 Bed • 6 Berth • 26ft x 10ft • Sea View
Pets:

N

Groups:

N

Decking:

Y

Hot Tub:

N

WiFi:

Y
No. 27 (Ref.102994)
2 Bed • 5/ Berth • 26ft x 10ft • Sea View
Pets:

Y

Groups:

N

Decking:

Y

Hot Tub:

N

WiFi:

N
47. (Ref.106305)
2 Bed • 5 Berth • 26ft x 10ft • Sea View
Pets:

Y

Groups:

N

Decking:

Y

Hot Tub:

N

WiFi:

Y
172 (Ref.108849)
Offer! Sat 16th Jul (7 Nights) £550

2 Bed • 4 Berth • 28ft x 12ft • DG
Pets:

Y

Groups:

N

Decking:

Y

Hot Tub:

N

WiFi:

Y
BRAND NEW CARAVAN 175 (Ref.106523)
2 Bed • 6 Berth • 28ft x 10ft • DG
Pets:

Y

Groups:

Y

Decking:

Y

Hot Tub:

N

WiFi:

Y
73 (Ref.110075)
Offer! Sat 16th Jul (7 Nights) £550

2 Bed • 6 Berth • 28ft x 12ft • Sea View
Pets:

Y

Groups:

Y

Decking:

Y

Hot Tub:

N

WiFi:

Y
8 (Ref.105584)
2 Bed • 5 Berth • 26ft x 10ft • Sea View
Pets:

Y

Groups:

N

Decking:

Y

Hot Tub:

N

WiFi:

Y
B2 (Ref.103130)
2 Bed • 5 Berth • 26ft x 10ft • Sea View
Pets:

Y

Groups:

N

Decking:

Y

Hot Tub:

N

WiFi:

Y
103 (Ref.102622)
2 Bed • 6 Berth • 26ft x 10ft • Sea View
Pets:

N

Groups:

N

Decking:

N

Hot Tub:

N

WiFi:

N
No.10 (Ref.103341)
2 Bed • 6 Berth • 26ft x 10ft • Sea View
Pets:

Y

Groups:

Y

Decking:

Y

Hot Tub:

N

WiFi:

N
33A (Ref.105295)
2 Bed • 6 Berth • 35ft x 12ft • DG • CH • Sea View
Pets:

N

Groups:

Y

Decking:

Y

Hot Tub:

N

WiFi:

Y
19 (Ref.106719)
Offer! Sat 24th Sep (7 Nights) £400

2 Bed • 6 Berth • 28ft x 10ft
Pets:

N

Groups:

N

Decking:

Y

Hot Tub:

N

WiFi:

Y
35 (Ref.109947)
2 Bed • 6 Berth • 26ft x 10ft • CH • Sea View
Pets:

Y

Groups:

N

Decking:

Y

Hot Tub:

N

WiFi:

Y
52 (Ref.109027)
2 Bed • 6 Berth • 28ft x 10ft • Sea View
Pets:

N

Groups:

N

Decking:

Y

Hot Tub:

N

WiFi:

N
180 (Ref.102347)
Offer! Sun 24th Jul (6 Nights) £475
free internet
2 Bed • 6 Berth • 26ft x 10ft
Pets:

N

Groups:

N

Decking:

N

Hot Tub:

N

WiFi:

Y
No. 46 (Ref.109981)
2 Bed • 4 Berth • 28ft x 10ft • Sea View
Pets:

Y

Groups:

N

Decking:

Y

Hot Tub:

N

WiFi:

N
A4 (Ref.104266)
2 Bed • 6 Berth • 35ft x 12ft • DG • CH • Sea View
Pets:

N

Groups:

N

Decking:

Y

Hot Tub:

N

WiFi:

N
A1 (Ref.108861)
2 Bed • 4 Berth • 26ft x 10ft • Sea View
Pets:

Y

Groups:

N

Decking:

Y

Hot Tub:

N

WiFi:

Y
78 (Ref.106642)
2 Bed • 6 Berth • 28ft x 10ft • DG • Sea View
Pets:

N

Groups:

N

Decking:

Y

Hot Tub:

N

WiFi:

N
B10 (Ref.103596)
2 Bed • 6 Berth • 26ft x 10ft • Sea View
Pets:

Y

Groups:

Y

Decking:

N

Hot Tub:

N

WiFi:

N
16 (Ref.101372)
2 Bed • 4 Berth • 26ft x 10ft • DG • Sea View
Pets:

N

Groups:

N

Decking:

Y

Hot Tub:

N

WiFi:

N
B4 (Ref.102115)
2 Bed • 6 Berth • 26ft x 10ft • Sea View
Pets:

Y

Groups:

N

Decking:

N

Hot Tub:

N

WiFi:

N
UK Caravan Hire
Mids & East England
Herefordshire
Lincolnshire
Norfolk
Nottinghamshire
Oxfordshire
Suffolk
North England
Cumbria
Durham
Lancashire
Northumberland
Tyne & Wear
East Yorkshire
North Yorkshire
South East England
Essex
Hampshire
Isle of Wight
Kent
East Sussex
West Sussex
South West England
Cornwall
Devon
Dorset
Gloucestershire
Somerset
Wales
Isle of Anglesey
Bridgend
Carmarthenshire
Ceredigion
Conwy
Denbighshire
Flintshire
Gwynedd
Pembrokeshire
Powys
Scotland
Argyll and Bute
Ayrshire
Berwickshire
Caithness
Dumfries and Galloway
East Lothian
Fife
Inverness-shire
Moray
Nairnshire
Ross and Cromarty
Sutherland