Liskey Hill, Perranporth, Cornwall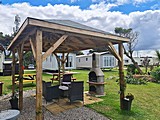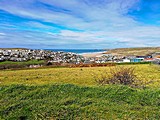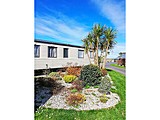 Caravan Holiday Park Information

Liskey Hill Holiday Park is a peaceful holiday park in Cornwall with spectacular coastal views over the seaside town of Perranporth and its world-famous beach.
If you want a peaceful yet family-friendly holiday in Cornwall, Liskey Hill Holiday Park is a perfect choice. 
At the caravan park, there is a BBQ area and launderette, plus, there's complimentary Wi-Fi available in public areas. There are also great sea views over the Cornish coast. 
Liskey Hill is perfect for families wanting to explore the best of Cornwall. They pride tjemselves on being a friendly and relaxing holiday park, so you feel welcome and safe.
Thanks to its prime location, guests can easily access Cornwall hotspots - Perranporth, Newquay and St Agnes - all within a 20-minute drive. Plus, there are loads of holiday activities to do nearby such as surfing, sunbathing, cliff-top walks and great family attractions. 
The closest town to Liskey Hill is Perranporth - set just enough into the countryside to avoid the busier centre of town, yet only minutes' walk from its restaurants, shops and the beach!
Park Location
Liskey Hill
Perranporth
Cornwall
TR6 0BB
13 Caravans For Hire at Liskey Hill
Displaying Caravans 1 to 13
3 Bed • 6 Berth • 35ft x 10ft • CH • Sea View

Pets:

✔

Decking:

✔

Hot Tub:

✘

WiFi:

✘

Passes:

✘
Ref.109680
The Beach House
2 Bed • 4 Berth • 30ft x 12ft • DG • CH • Sea View

Pets:

✔

Decking:

✔

Hot Tub:

✘

WiFi:

✘

Passes:

✘
2 Bed • 4 Berth • ft x 12ft • DG • CH • Sea View

Pets:

✔

Decking:

✔

Hot Tub:

✘

WiFi:

✔

Passes:

✘
2 Bed • 6 Berth • 26ft x 12ft • Sea View

Pets:

✔

Decking:

✘

Hot Tub:

✘

WiFi:

✘

Passes:

✘
2 Bed • 4 Berth • 39ft x 12ft • DG • CH • Sea View

Pets:

✔

Decking:

✔

Hot Tub:

✘

WiFi:

✘

Passes:

✘
2 Bed • 6 Berth • ft x 12ft • DG • CH • Sea View

Pets:

✔

Decking:

✔

Hot Tub:

✘

WiFi:

✘

Passes:

✘
2 Bed • 4 Berth • 40ft x 14ft • DG • CH • Sea View

Pets:

✘

Decking:

✔

Hot Tub:

✘

WiFi:

✘

Passes:

✘
2 Bed • 4 Berth • 37ft x 12ft • DG • CH • Sea View

Pets:

✔

Decking:

✔

Hot Tub:

✘

WiFi:

✔

Passes:

✘
3 Bed • 6 Berth • 36ft x 12ft • DG • CH • Sea View

Pets:

✔

Decking:

✔

Hot Tub:

✘

WiFi:

✔

Passes:

✘
2 Bed • 6 Berth • 39ft x 12ft • DG • CH

Pets:

✔

Decking:

✔

Hot Tub:

✘

WiFi:

✔

Passes:

✘
3 Bed • 6 Berth • 35ft x 12ft • DG • CH

Pets:

✔

Decking:

✔

Hot Tub:

✘

WiFi:

✘

Passes:

✘
2 Bed • 4 Berth • 35ft x 12ft • DG • CH • Sea View

Pets:

✔

Decking:

✔

Hot Tub:

✘

WiFi:

✘

Passes:

✘
3 Bed • 6 Berth • 35ft x 12ft • DG • CH • Sea View

Pets:

✔

Decking:

✔

Hot Tub:

✘

WiFi:

✘

Passes:

✘
UK Caravan Hire
Mids & East England
Herefordshire
Lincolnshire
Norfolk
Nottinghamshire
Oxfordshire
Suffolk
North England
Cumbria
Durham
Lancashire
Northumberland
Tyne & Wear
East Yorkshire
North Yorkshire
South East England
Essex
Hampshire
Isle of Wight
Kent
East Sussex
West Sussex
South West England
Cornwall
Devon
Dorset
Gloucestershire
Somerset
Wales
Isle of Anglesey
Bridgend
Carmarthenshire
Ceredigion
Conwy
Denbighshire
Flintshire
Gwynedd
Pembrokeshire
Powys
Scotland
Argyll and Bute
Ayrshire
Berwickshire
Caithness
Dumfries and Galloway
East Lothian
Inverness-shire
Moray
Nairnshire
Renfrewshire
Ross and Cromarty