Cayton Bay, Scarborough, North Yorkshire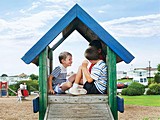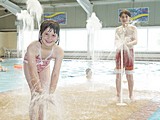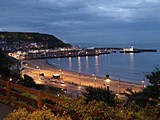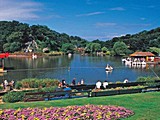 Caravan Holiday Park Information

Set in glorious countryside close to the seaside town of Scarborough, Cayton Bay boasts the best North Yorkshire has to offer.
The perfect setting for a memorable family holiday, there's something for everyone at this lively park. The beach is nearby, the indoor waterworld offers hours of splashing fun with fountains, waterjets and a slide, while an all weather sports court means fun and games for all the family. Kids are well catered for with Sparky's Krew providing a range of activities for 5–11s. The Boathouse Bar, serving delicious meals, makes an ideal start to the evening before enjoying the dancing, competitions, shows and visiting cabaret at the Oasis Showbar.
Cayton Bay is a superb base for exploring the many sandy beaches and historic attractions of this beautiful area. Scarborough, Filey and the famous cliffs at Flamborough Head are all within an easy drive.
Park Location
Cayton Bay Holiday Park
Mill Lane
Cayton Bay
Scarborough
North Yorkshire
YO11 3NJ
18 Caravans For Hire at Cayton Bay
Displaying Caravans 1 to 18
2 Bed • 5 Berth • 38ft x 12ft • DG • CH

Pets:

✔

Decking:

✔

Hot Tub:

✘

WiFi:

✔

Passes:

✘
3 Bed • 8 Berth • 37ft x 12ft

Pets:

✔

Decking:

✔

Hot Tub:

✘

WiFi:

✘

Passes:

✘
3 Bed • 8 Berth • 37ft x 12ft • DG • CH

Pets:

✘

Decking:

✔

Hot Tub:

✘

WiFi:

✔

Passes:

✘
3 Bed • 8 Berth • 35ft x 12ft • DG • CH

Pets:

✔

Decking:

✔

Hot Tub:

✘

WiFi:

✘

Passes:

✘
2 Bed • 6 Berth • 35ft x 12ft • DG

Pets:

✔

Decking:

✔

Hot Tub:

✘

WiFi:

✘

Passes:

✘
2 Bed • 6 Berth • 32ft x 12ft • DG

Pets:

✘

Decking:

✔

Hot Tub:

✘

WiFi:

✘

Passes:

✘
3 Bed • 6 Berth • 35ft x 12ft • DG • CH

Pets:

✘

Decking:

✔

Hot Tub:

✘

WiFi:

✘

Passes:

✘
2 Bed • 6 Berth • 36ft x 12ft • DG • CH

Pets:

✘

Decking:

✔

Hot Tub:

✘

WiFi:

✘

Passes:

✘
3 Bed • 8 Berth • 35ft x 12ft

Pets:

✔

Decking:

✘

Hot Tub:

✘

WiFi:

✔

Passes:

✘
2 Bed • 4 Berth • 40ft x 13ft • DG • CH

Pets:

✘

Decking:

✔

Hot Tub:

✘

WiFi:

✔

Passes:

✘
3 Bed • 8 Berth • 36ft x 12ft • DG • CH

Pets:

✔

Decking:

✔

Hot Tub:

✘

WiFi:

✔

Passes:

✘
3 Bed • 6 Berth • 35ft x 12ft

Pets:

✘

Decking:

✔

Hot Tub:

✘

WiFi:

✔

Passes:

✘
2 Bed • 6 Berth • 38ft x 12ft • DG • CH

Pets:

✘

Decking:

✔

Hot Tub:

✘

WiFi:

✔

Passes:

✘
2 Bed • 5 Berth • 35ft x 12ft • DG

Pets:

✔

Decking:

✔

Hot Tub:

✘

WiFi:

✘

Passes:

✘
3 Bed • 8 Berth • 40ft x 12ft • DG • CH • Sea View

Pets:

✔

Decking:

✔

Hot Tub:

✘

WiFi:

✔

Passes:

✘
3 Bed • 6 Berth • 38ft x 12ft • DG • CH

Pets:

✔

Decking:

✔

Hot Tub:

✘

WiFi:

✘

Passes:

✘
2 Bed • 6 Berth • 36ft x 12ft • DG • CH

Pets:

✔

Decking:

✔

Hot Tub:

✘

WiFi:

✔

Passes:

✘
2 Bed • 6 Berth • 42ft x 14ft • DG • CH

Pets:

✘

Decking:

✔

Hot Tub:

✘

WiFi:

✔

Passes:

✘
UK Caravan Hire
Mids & East England
Herefordshire
Lincolnshire
Norfolk
Nottinghamshire
Oxfordshire
Suffolk
North England
Cumbria
Durham
Lancashire
Northumberland
Tyne & Wear
East Yorkshire
North Yorkshire
South East England
Essex
Hampshire
Isle of Wight
Kent
East Sussex
West Sussex
South West England
Cornwall
Devon
Dorset
Gloucestershire
Somerset
Wales
Isle of Anglesey
Bridgend
Carmarthenshire
Ceredigion
Conwy
Denbighshire
Flintshire
Gwynedd
Pembrokeshire
Powys
Scotland
Argyll and Bute
Ayrshire
Berwickshire
Caithness
Dumfries and Galloway
East Lothian
Inverness-shire
Moray
Nairnshire
Renfrewshire
Ross and Cromarty