Thornwick Bay, Bridlington, East Yorkshire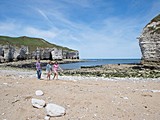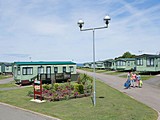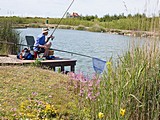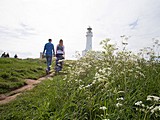 Caravan Holiday Park Information

Thornwick Bay Holiday Village (formerly Thornwick & Sea Farm) lies in the middle of a very popular touring area within easy reach of the North East coast holiday resorts.
The beautiful clifftop park sits on part of Flamborough Cliffs nature reserve and is home to seabird colonies nesting on its chalk cliffs – ideal for uninterrupted sea views or spotting wildlife. There are 4 bays around the headland all with easy access to the beach and with half to two miles from the park.
Enjoy a wealth of heritage and activities. Bring a pair of comfy shoes and explore the moorland. Drive over to the historic town of Bridlington, or marvel at the architecture of Burton Agnes Hall.
Park Location
Thornwick Bay Holiday Village
North Marine Road
Flamborough
East Yorkshire
YO15 1AU
18 Caravans For Hire at Thornwick Bay
Displaying Caravans 1 to 18
3 Bed • 6 Berth • 36ft x 12ft • DG

Pets:

✔

Decking:

✔

Hot Tub:

✘

WiFi:

✘

Passes:

✘
2 Bed • 4 Berth • 39ft x 13ft • DG • CH • Sea View

Pets:

✔

Decking:

✔

Hot Tub:

✘

WiFi:

✔

Passes:

✘
2 Bed • 4 Berth • 36ft x 12ft • DG • CH • Sea View

Pets:

✔

Decking:

✔

Hot Tub:

✘

WiFi:

✔

Passes:

✘
Ref.100610
Hobby Hollow 38
3 Bed • 6 Berth • 35ft x 12ft • DG • CH • Sea View

Pets:

✔

Decking:

✔

Hot Tub:

✘

WiFi:

✘

Passes:

✘
Ref.105106
Velvet Vale 46
2 Bed • 4 Berth • 35ft x 12ft • DG • CH • Sea View

Pets:

✔

Decking:

✔

Hot Tub:

✘

WiFi:

✔

Passes:

✘
2 Bed • 4 Berth • 38ft x 12ft • DG • CH

Pets:

✘

Decking:

✔

Hot Tub:

✘

WiFi:

✔

Passes:

✘
2 Bed • 6 Berth • ft x ft • DG

Pets:

✔

Decking:

✔

Hot Tub:

✘

WiFi:

✔

Passes:

✘
2 Bed • 6 Berth • 30ft x 12ft • DG

Pets:

✔

Decking:

✔

Hot Tub:

✘

WiFi:

✔

Passes:

✘
2 Bed • 4 Berth • 35ft x 12ft • DG • CH

Pets:

✔

Decking:

✔

Hot Tub:

✘

WiFi:

✘

Passes:

✘
2 Bed • 4 Berth • 41ft x 14ft • DG • CH • Sea View

Pets:

✘

Decking:

✔

Hot Tub:

✘

WiFi:

✔

Passes:

✘
Ref.101028
Wren meadow 14
3 Bed • 8 Berth • 35ft x 12ft • DG • Sea View

Pets:

✘

Decking:

✔

Hot Tub:

✘

WiFi:

✘

Passes:

✘
3 Bed • 6 Berth • 40ft x 12ft • DG • CH • Sea View

Pets:

✘

Decking:

✔

Hot Tub:

✘

WiFi:

✔

Passes:

✘
2 Bed • 6 Berth • 35ft x 12ft • DG • CH

Pets:

✘

Decking:

✔

Hot Tub:

✘

WiFi:

✔

Passes:

✘
2 Bed • 6 Berth • 35ft x 12ft

Pets:

✔

Decking:

✔

Hot Tub:

✘

WiFi:

✘

Passes:

✘
3 Bed • 6 Berth • 38ft x 12ft • DG

Pets:

✘

Decking:

✔

Hot Tub:

✘

WiFi:

✔

Passes:

✘
Ref.110439
Yellowhammer 33
2 Bed • 6 Berth • 36ft x 12ft • DG • CH • Sea View

Pets:

✔

Decking:

✔

Hot Tub:

✘

WiFi:

✔

Passes:

✘
2 Bed • 6 Berth • 30ft x 12ft • DG • CH

Pets:

✘

Decking:

✔

Hot Tub:

✘

WiFi:

✘

Passes:

✘
Ref.103962
Yellowhammer 34
2 Bed • 6 Berth • 32ft x 12ft • Sea View

Pets:

✔

Decking:

✔

Hot Tub:

✘

WiFi:

✘

Passes:

✘
UK Caravan Hire
Mids & East England
Herefordshire
Lincolnshire
Norfolk
Nottinghamshire
Oxfordshire
Suffolk
North England
Cumbria
Durham
Lancashire
Northumberland
Tyne & Wear
East Yorkshire
North Yorkshire
South East England
Essex
Hampshire
Isle of Wight
Kent
East Sussex
West Sussex
South West England
Cornwall
Devon
Dorset
Gloucestershire
Somerset
Wales
Isle of Anglesey
Bridgend
Carmarthenshire
Ceredigion
Conwy
Denbighshire
Flintshire
Gwynedd
Pembrokeshire
Powys
Scotland
Argyll and Bute
Ayrshire
Berwickshire
Caithness
Dumfries and Galloway
East Lothian
Inverness-shire
Moray
Nairnshire
Renfrewshire
Ross and Cromarty