Static Caravan UK Verified Owner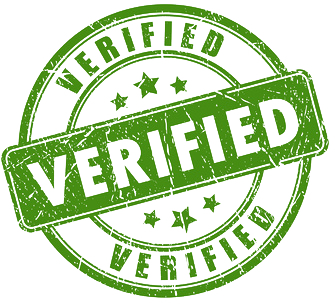 Owners earn verified status if two or more conditions are met. These include the following:
12 Month Rule
The owner has been advertising on Static Caravan UK for a minimum of 12 months without any reported issues.
Payment Verification
The owner's financial details and contact details have been confirmed and verified by PayPal and/or authenticated by NoChex.
Ownership Verification
The owner has been met in person and/or provided evidence of ownership.
Previous Guest Verification
Sufficient feedback has been received from past guests via validated social media and other channels.
Longevity & Reputation
Based on historical activity and the length of registration and seen as a trusted owner (or acting on behalf of owners).
Many owners provide links to their own Website and Social Media pages, in addition to the option of receiving reviews from previous guests displayed on their advert. These should go some way to help confirm the identity and authenticity of the owner. You can also view how long a particular advert has been registered on Static Caravan UK at the foot of each advert page.
Important (Please Note):
The Owner Verification programme is not a 100% guarantee and does not constitute an endorsement of an owner. You should always consider other indicators when evaluating owners and ensure all relevant contact details are obtained prior to payment and a confirmed booking. We suggest PayPal (if offered by the owner) as the safest form of payment, as it can provide a greater level of buyer protection subject to certain conditions.
Verified owner status can be withdrawn by Static Caravan UK at any time.
Static Caravan UK does not act as a third party or intermediary and will take no further part in the booking process nor retain any liability for any disputes that may arise between owner and guest.
UK Caravan Hire
Mids & East England
Herefordshire
Lincolnshire
Norfolk
Nottinghamshire
Oxfordshire
Suffolk
North England
Cumbria
Durham
Lancashire
Northumberland
Tyne & Wear
East Yorkshire
North Yorkshire
South East England
Essex
Hampshire
Isle of Wight
Kent
East Sussex
West Sussex
South West England
Cornwall
Devon
Dorset
Gloucestershire
Somerset
Wales
Isle of Anglesey
Bridgend
Carmarthenshire
Ceredigion
Conwy
Denbighshire
Flintshire
Gwynedd
Pembrokeshire
Powys
Scotland
Angus
Argyll and Bute
Ayrshire
Berwickshire
Caithness
Dumfries and Galloway
East Lothian
Fife
Inverness-shire
Moray
Nairnshire
Ross and Cromarty
Sutherland